Postures for Sitting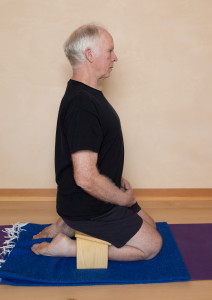 Fundamentals of Sitting: Considering how much time the average modern human spends sitting, whether at a desk, in a car, while eating, or just lounging, it is a good investment of time to train yourself to sit elegantly and easily. The principles are simple. Take advantage of gravity by aligning the three major masses of the body; the pelvis and hip joints, the ribs and shoulders, and the skull. If the center of each of these masses is on a vertical line, the body will balance itself with a minimum of effort or strain. But if they are not vertical, then there will be collapse in some places and excess effort and tension in others.
Because the hip joints directly affect the spinal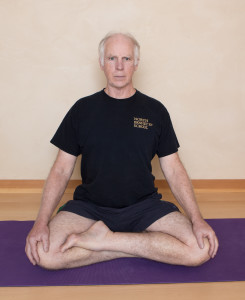 column through the action of the psoas muscles, having the knees below the level of the pelvis is ideal. This is especially true if you do not have very open hip joints. With hip and knee limitations, I use a seiza bench to sit in virasana and a bolster for sukhasana.
Virasana encourages internal rotation of the hip joints and this pose works well for those whose hip joints easily move that way.  The complementary pose is baddha konasana, where the hip joints are asked to externally rotate.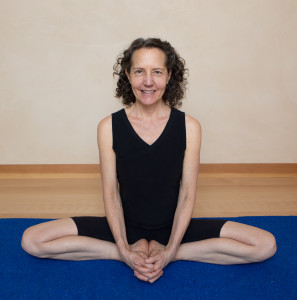 Sukhasana, the 'easy pose' is in the middle, much easier for the average student who wants to sit for longer periods of time.
[/two_third]
[one_third_last]
Beginning: Related Links
1. Developing Mindful Awareness
2. Attending to the Breath
3. Orienting to Grounding and Lightness
[/one_third_last]