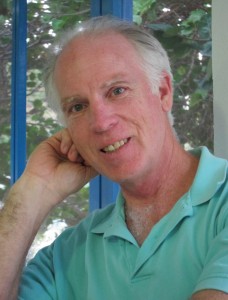 Arthur Kilmurray is one of the most innovative and unique yoga instructors in the United States. His classes are explorations in somatic and self enquiry that use meditation and yoga postures as entry points for awakening to the timeless flow of aliveness. Drawing upon his years of study with yoga master B.K.S. Iyengar and Ramanand Patel, and somatic pioneers Bonnie Bainbridge Cohen, founder of Body Mind Centering and Emilie Conrad, creator of Continuum, Arthur helps students discover the relationships among energy flow, structure and light that are the foundations of awakened, embodied presence and provides them with skillful means to continue their own on-going enquiries into the mysteries of existence and their role in the planetary unfolding.
In addition to the somatic component to the awakening, Arthur's classes are seeded with pearls of wisdom from the worlds of anatomy and physiology, neuroscience and cosmology, the Yoga Sutras, Vedanta and Buddhist practices, and the natural world in all her glory and wonder. New students will be introduced to the relationship between structure and energy flow known as alignment and explore moving in and out of poses fluidly and effortlessly. Intermediate students will be able to refine the poses they practice regularly and explore new possibilities by discovering ways of integrating organ and cellular support. Seasoned somanauts and cosmic explorers will deepen their capacity to rest in the ever abiding silence of the Self and will continuously find new clues to play with and avenues to explore in their own unfolding.
Other major influences on his current teaching include Swami Dayananda, Adyshanti, Krishnamurti, Eckhart Tolle, The Dalai Lama, Dan Siegel, Mukesh Desai, Thomas Berry, Brian Swimme, Ken Wilber, Don Beck, Itzak Bentov, Judith Lasater, Caryn McHose, Kevin Frank, Tom Myers, and Hubert Goddard.