[two_third]
Physics for Yogis
Principle 1: Leverage
A lever is a simple tool to amplify a force to allow a difficult action to be performed more easily. There is a weight to be moved or lifted, a lever, the fulcrum or pivot point, and the force applied.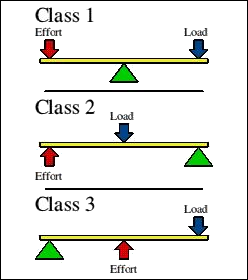 In the image to the left we find the three types of levers that are used in daily activities. In a class 1 lever, the fulcrum is in the middle and a downward force on one end creates lift at the other. Examples of this include a see-saw, where the load and the force are interchangeable, opening a paint can with a screw driver, or prying a large boulder out of a hole. A wheel barrow is a typical class 2 lever.  The fulcrum, a wheel, is at the end, the load is in the middle, and the effort or force lifts up against the weight. Class 3 is like class 2 with the effort and load reversed. Hitting a baseball with a bat or a tennis ball with a racket, with the wrists as the fulcrum and the ball as the load.
We can find these actions in the human body.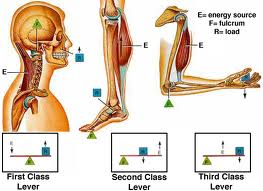 The head sitting on the neck acts like a class 1 lever or see-saw. The foot in plantar flexion operates like a class 2 lever and the elbows can act as class three levers to lift something in the hand. For students and teachers, finding where and how to use leverage to create effortless movement is a key to understanding postures and vinyasa.  The key to leverage is the fulcrum or still point, and for yogis the center is the gateway into the stillness at the heart of yoga practice. Lets look at trikonasana for example.
The definitive triangle is performed by, of course, BKS Iyengar and this photo of him happens to sit on my altar.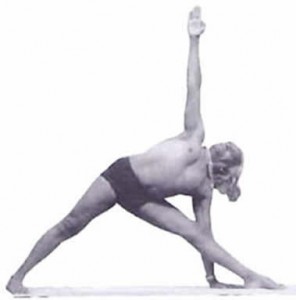 For him, the primary fulcrum is the center of the pelvis around his 2nd chakra. His back leg is so dynamic that he has created a class 1 lever, leaving his upper body very light and effortlessly extended. To do this he must deepen his left groin to the point where the energy line of that leg also meets the fulcrum in the center of the pelvis. The line of his spinal energy also pivots around the center of the pelvis with his tail/pelvic floor perfectly counterbalancing the torso with a dynamic charge of energy. 

[/two_third]
[one_third_last]
Related Links
Link 01
Link 02
Link 03
[/one_third_last]