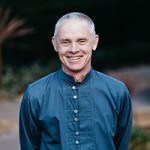 Adyashanti continues to astound me with the depth and clarity of his realization and his ability to give a voice to the most profound dimensions of our historical moment. My far less articulate teaching flows from the same source, so it is always exciting for me to see his latest insights. This quote comes from an introduction to an on-line course he is offering in November and I have included information on this below. If you click on the link that follows, you will also find a ten minute introductory talk. The bold typeface comes from Adya. The word for seat in Sanskrit is 'asana', so 'Taking the One Seat', to me, describes the ultimate expression of asana; not just doing postures, but fully inhabiting this incarnation, at every level and layer of reality.
"Deep spiritual experience is characterized by an apparent, and at times baffling, paradox. While realization reveals the unity and non-separation of all existence, we simultaneously experience ourselves as individuals leading particular human lives. Ultimately the experience of reality lies at the dynamic confluence of the universal One and the human one, the experience of no separate self and what I call spiritual autonomy.
Spiritual autonomy, or what might be described as the soul (if understood more as a function than as a thing), is not a given. The spiritual autonomy that the soul affords is generally hard won and comes at the expense of many deeply ingrained ideas and beliefs about what life is and how it works. It must be nurtured and developed in the grist of daily living, which is to say that it must be lived, not simply realized. Spiritual autonomy is an invitation to step up to our incarnation, to say yes to it, and to realize our own potential, both for ourselves and for the sake of all beings.
But before the soul can be realized and lived, it must be brought to the surface of consciousness, nurtured, and chosen to be one's own. Only then does it begin to reveal a deeper sense of meaning and direction in one's life. While the ground of being may be completely beyond both meaning and purpose, the individual expression of that ground is given direction and oriented to the world through the prism of meaning. By bringing to light how the ground of being functions through the individual, we discover a degree of spiritual autonomy that allows and challenges us to what in Zen is called "Take the one seat." Taking the one seat is to fully occupy this very life — our individual life and all of life — as the ultimate ground of being. To do so is the expression of enlightenment itself."
Spiritual Autonomy and the Soul's Discovery of Meaning
Early Bird Price (Sep 20 – Oct 10) $150 USD
Regular Price (Oct 11 – Nov 5) $175 USD
4-Week Online Course
November 8-29, 2017,
Wednesday Evening Live Video Broadcasts
Register at
http://www.adyashanti.org/cafedharma/index.php?file=webevent